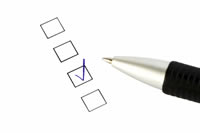 Assuming you're familiar with the best use case for the beautiful, prefab themes found on websites like ThemeForest.com®, here are some important things to consider before making a purchase that represents you online:
How can you determine if the theme is safe? For more on this, read this article: http://www.dummies.com/web-design-development/wordpress/avoiding-unsafe-wordpress-themes/
Does the theme author have a good history of tech support responsiveness, or do questions languish for weeks without an answer? In fact, what is the overall customer service policy of the theme seller or reseller?
How widely adopted and in use is the theme? Usually the higher the number the better for stability purposes, but higher numbers are not so great for differentiating yourself.
What known issues does the theme suffer from, and could any of them impact best-practices security configurations for WordPress?
What will be your actual learning curve to figure out how to modify the theme in a way that best fits your organization, and what modifications will just not be possible without knowledge of HTML/CSS/PHP?
What is the annual renewal fee for the theme's license?
What will happen if the license is not renewed?
What plug-ins are required in order for the theme to behave like it does in the demo? Most of these themes don't have all the functionality built-in to them that provides some of the cool interactive behaviors and methods of content display that the demo shows.
Are any of the required plug-ins unsafe or have they had a history of security problems?
What will be the cost for purchasing your own plug-in licenses? Will this recur as well every year?