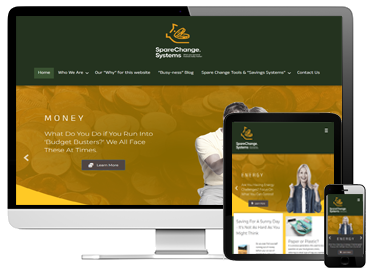 Sparechange.systems is a custom designed website built for blogging and e-commerce. The website's product offering are PDF downloads that contain financial guidance content. The brainchild of John and Judy Ellsworth, this website divides its content across three major categories of time, money, and energy.
The design came out of numerous conversations and ideas I had while consulting with the Ellsworths, and it was clear they wanted a fiscally conservative look with a modern edge.
The home page hero section is comprised of multiple layers separated by z-index values. This section is comprised of a slideshow over the top of a parallax background of gold coins. Combining the two techniques was both challenging and rewarding.
Most of the content appearing on the home page originates from various blog posts assigned to specific categories. These categories are configured to post assigned content to the home page.
Training involved how to update content, how to manage products and sales, and how to manage the blog. This site was delivered with both a user guide and a site integration map, with the latter being a technical document they can hand to other web professionals for getting help in case anything ever happens to me.